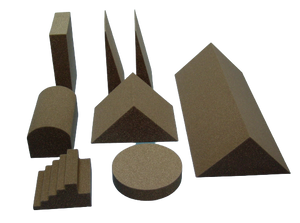 Standard R & F Kit - Part 19
Add versatility with a collection of commonly used positioning aids for radiography/fluoroscopy procedures.
Each kit includes:
(1) 111 - 45 degree Wedge, 6.75"H x 6.75"W x 7.25"L
(1) 112 - Circular Disc, 1.5"H x 7" Diameter
(2) 113 - 12 degree Wedge, 2.25"H x 9.5"W x 7.25"L
(1) 114 - Rectangle, 2"H x 7.5"W x 9.5"L
(1) 121 - Oblique Finger Block, 3.13"H x 5.5"W x 5"L
(1) 133 - Cervical Head Rest, 4.25"H x 4.75"W x 8"L
(1) 145 - Spinal Wedge, 7"H x 7"W x 21.25"L

Choose between a variety of finish options:
-Flexible ScanCoat vinyl coating for imaging compatibility, cleanability, and contamination control (19-SCB)
-Ultrafoam construction for firm support during positioning applications (19-UF)
*Please note: Covered items (-8, -20 or -SCB) are not recommended for low KVP techniques as the edges/seams may show. Items composed of Ultrafoam (-UF) that have a height higher than 3 inches will have a glue seam that may attenuate.
If item is not in stock at time of order, lead time is 2 - 3 weeks.

Packaging: 1 Kit
Substrate: Open cell foam (Except 19-UF is made of closed cell foam)
Sterile: Non-Sterile
Latex Free: Y
Single Use: N

Modalities:
- CT Scan, General Positioning, MRI, Nuclear Medicine, Ultrasound
---
We Also Recommend
Products that improve lives
If you're interested in learning more about distribution opportunities, we'd love to connect.
Become a Distributor